Season 1 | Episode 7 | "Bad Things Happen" | Aired Aug 22, 2014
Well things get a wee bit weird and awkward on the Aug. 22 episode of The Almighty Johnsons. It seems like sweet-talking Anders left some broken hearts in his wake, Mike uses his powers for good, and Axl meets Gaia's new boyfriend. So pretty much it was a drama-filled and eventful episode.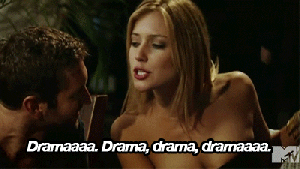 Mike is just about drowning in debt when Valerie finds out that her husband is being an honorable man. It seems like Mike has no choice but to use the powers of Ullr and gamble! Once Mike's starts he has a hard time stopping, well that is until he gets kicked out of a casino. Even though Mike was called a cheater, he was still able to bring home the money. After having a pretty successful night, Mike returns home to find a note from Val about Coma Rob. At the hospital, Mike walks into find Rob no longer in a coma!
After Axl meets Gaia's new boyfriend, he decides that he wants "to get pissed"—yep, repress those feelings Axl. So Axl and Zeb head over to Anders' to have some real fun. In the middle of drinking, three chicks show up in Anders' apartment. Cue a drooling Zeb and a nervous Axl. The girls give Zeb and Axl some drugs, which completely immobilize Zeb, but Axl is feeling nothing! Anders joins the party and the ladies soon reveal what their true motives are; Anders' sweet talking ways have ruined all three of the ladies lives, so they tie up Axl and drag a very drugged Anders into the bedroom.
The angry ladies reveal to Axl that they are actually planning on neutering Anders! Axl uses his Odin strength and breaks out of the handcuffs. With sword in hand, Axl insists that the ladies leave, but promises Anders will pay for his actions.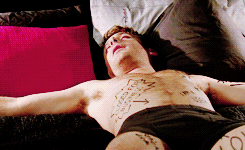 Axl is really taking his role as Odin very seriously! He wakes up his ass of a brother and sets some ground rules, Anders is no longer allowed to have sex with mortals until he can control himself. Axl also lets his brother know that he will only have sex with a girl if they think she is the Frigg.
The next morning a hungover Zeb shares that he saw and heard everything Axl did the night before. In between kissing the porcelain, Axl shares with Zeb the Johnson family secret! He maybe Odin but Axl Johnson is going to have some explaining to do when his older brothers find out.
The Almighty Johnsons airs Fridays at 11/10C on Syfy.