Season 1 | Episode 6 | "Goddesses, Axl, Come in All Forms" | Aired Aug 15, 2014
It was a busy episode for the Johnson family. "The Quest" is in full swing, the Johnsons come face-to-face with the goddess squad, and they meet the God of Thunder—though this is starting to feel like a normal cycle for the Johnsons.
The August 15 episode opens with an older lady standing outside her house, where she gets hit by a freaking meteorite! Anyway, both Olaf and the goddesses' oracle, Ingrid (Rachel Nash), see this as a sign of the Frig, so of course a road trip is in order. Olaf, Anders and Axl are a go for team Johnson, and Michele and Ingrid are taking one for the goddess squad.
Deciding to stay behind, Ty spends more time with Dawn … though Ty is beginning to believe that he is entering the friend zone with Dawn. Poor Ty: He just wants some good old-fashioned love. Well, it actually turns out that Anders told Dawn that Ty is not interested in women.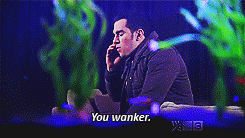 Once Dawn realizes that Ty is actually really into her, they have a full on make-out session! Get it, Ty and Dawn!
The groups of gods and goddesses both show up for the funeral being held for the older lady. The goddesses confront the gods and let them know that they are no longer trying to kill Axl; they just want to find the Frig before them. Game on!
During the church ceremony, both Olaf and Ingrid get a strange feeling about one of the members of the departed's family. Though the group may have been looking for a goddess, they found a god. And not just any god—intro to Thor (Geoff Dolan)!
Unlike the Marvel Thor we are more used to, The Almighty Johnsons' Thor marches to the beat of his own drum. Thor is a bit of a mad hothead who believes his daughter, Delphine (Olivia Tennet), is the Frig.
Anders and Olaf leave Axl at Thor's and join Michele and Ingrid at a motel. So starts the ship of Olaf and Ingrid!
Axl is having an awful time with Delphine, who is totally not the Frig. Delphine admits that she's in love with another dude, and is actually pregnant with said dude's child. Axl is so over all of this, and is ready to confront Thor with the news. When Axl tries to make a clear break, Thor goes kind of mad and traps Axl in his house.
Axl calls Anders to come rescue him. Michele and Ingrid bail and Anders and Olaf head out to save Axl from Thor. Though it seems like Axl is starting to put on his big-boy pants as Odin, Axl takes charge! They escape Thor's mountain and return home, no closer to finding the Frig.
"Odin has spoken; we are all cool." Yep—welcome Axl Johnson to the big-boy club!
The Almighty Johnsons airs Fridays at 11/10C on Syfy.