Oh, Anders, every little thing you say is magic—and that mainly has to do with the fact that you are the reincarnation of the Norse god Bragi. The second-oldest Johnson brother is a bit of a selfish pain in the bum, but for the most part, Anders is able to sweet-talk his way out of everything!
Bragi is the god of poetry. Being the god of poetry, Anders is able to influence people with his words. This interesting power has helped Anders in business and as a publicist, as well as with the ladies.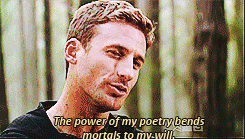 Thus far, Anders seems to be the only one of Axl's older brothers who is obsessed with "the quest." Not really sure what Anders, as Bragi, thinks will happen once he becomes the full-throttle god of poetry, but damn, does he really want to be a full-power god! It is safe to say that Anders is the black sheep of the family. He clearly has an issues with older brother Mike, and Anders seems to have a hard time holding his tongue around others.
We will have to see in the coming weeks whether Anders has any real redeeming characteristics, because right now he just seems like a wee bit of a jerk who does not play nice with others.
The Almighty Johnsons airs Fridays at 10/9C on Syfy.