Season 1 | Episode 1 | Aired Apr 12, 2012 (UK Channel 4)

Ricky Gervais is not known for his softer side. Whether he's delivering smart, edgy stand-up, playing David Brent or horrifying Hollywood elite at the Golden Globes, the British funnyman always has an interesting view of the world around him. In his latest TV show, Derek, Gervais digs deep into emotional honesty and explores the life of a simple man with an extraordinary heart. And yes, there are a fair amount of laughs to be had as well.
Derek (Ricky Gervais) is a big teddy bear. One of the caretakers at a local nursing home, he's unassuming, simple and heartbreakingly sweet. He's the kid in recess who'd give you his lunch, even if you didn't ask. It's established in the pilot that his shortcomings never hold him back. Rather than being a hindrance or "handicap," his simpleness allows him to be completely open to the cares and needs of the world around him. He's a beautiful, dryly funny character, and one I'm looking forward to spending two seasons getting to know.
Filmed as an Office-style mockumentary, episode 1 is the big introduction where we meet the main cast of characters. First we meet Hannah (Kerry Godliman), a 30-something nurse who has dedicated most of her life to elderly care. Bound to the comfort of her residents, she's ignored her own happiness for the sake of others. On the other side is Douglas (Karl Pilkington), the facility's caretaker. Balding, nearsighted and worn down, Douglas has accepted his lot in life with no plans or energy to make anything else of it.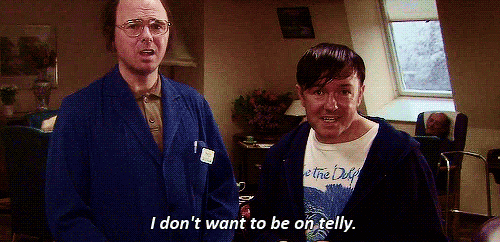 And then there's Kev (David Earl), a near-homeless person, who lives off the government dime and spends his time lounging in the home's day room. He's ugly, crass and unapologetic. While everybody has his or her comedic moments, Kev is the brutal one, the problem everybody tolerates. Ever have a friend whom nobody wants around, but is accepted all the same? That's Kev.
Like many of Gervais' characters, Derek's simplicity and blind honesty often causes uncomfortable situations. At one point, Derek notices Hannah glancing at Tom, the handsome son of a new arrival. When called on it, Hannah suggests Derek walk over and do a subtle sexuality check: Find out the movies and TV shows he's into so she can do the "is he gay" math. Derek, of course, tells Tom the deadpan truth, creating a fun yet awkward moment. A subtle spark gets lit thanks to Derek's honesty. Here's hoping there's a bit of lovin' in Hannah's immediate future.
After the tour, we get the gut punch. Derek visits his best bud, Joan, for an outing to grab a lottery ticket. Feeling under the weather, Joan asks Derek to go on without her. After a bus ride with Douglas driving — whom he annoys with constant questioning — he returns, brimming with good news. Joan is 10 pounds richer. Trouble is, she passed away while he was gone. Derek is shattered, and the scene where he apologizes at her bedside for any arguments they may have had is heartrending. The quote of the episode comes when Derek, talking about how Joan made him feel better, says, "…and she said, 'Kindness is magic, Derek. It's more important to be kind than to be clever or good-looking.' "
Episode 1 does exactly what a good pilot should do: Set the tone for an entire series. Dry laughs are mixed with touching moments, peppered by a few emotional knife stabs to keep it honest. Episode 1 is an instant fishhook of delicious dramedy goodness that has "binge watch" written all over it.
And the best bit is, it's Netflix. No need to wait a week for episode 2.
The Three Star Moments of Episode 1

The Gleefully Charming Moment: In his whirlwind tour of the nursing home, Derek shares his favorite thing: a YouTube video called "Hamster on a Piano." If his childlike wonder at a rodent eating popcorn on a keyboard doesn't make you smile, check your heartbeat. You may be dead and not even know it, Bruce Willis-style.
The Unexpected Tear-Up Moment: Douglas, in a fit of frustration, is complaining about the old and "knackered" in the complex. Joan has asked him to fix a smashed picture, and rather than mend something "she won't even remember," he tosses it in the garbage. Derek finds out and scolds him, saying, "But what if you was old and somebody said, 'Don't bother with him, he's a hundred?' I'd save you. I don't care how old you was." Another example of Derek's uncluttered view of the world. If someone needs help, you give it. End of story.
The "F**k Yeah!" Moment: Hannah and Derek are sitting in the pub when a group of barflies starts making bitchy comments at his expense. Hannah quickly suggests to Derek that they leave and heads toward the exit. But before they do so, Hannah gets Derek out of sight, walks up to the leader of the group and delivers a solid headbutt. Hannah had already mentioned her short temper, and this simple moment cements the "big sister" relationship she has with Derek. That, and it's always awesome to watch jerks get bitch-slapped.
Derek is now available on Netflix.