Season 6 | Episodes 21 & 22 | "Moving Up: Part 1 & 2" | Aired Apr 24, 2014
Tonight, Parks and Recreation closed the book on a sixth season that was full of ups and downs. There were high moments (the filibuster, Cones of Dunshire, the website for the new slogan) and there were lows (the whole chunk of time when Andy was gone). And there were moments we just weren't sure about (like Leslie and Ben expecting triplets and the lingering question of Leslie's future in Pawnee). Tonight's season finale answered many of those questions, ending on a moment that was equal parts awesome and WTF.
Leslie took the job with the National Parks Department, but she didn't move to Chicago. Instead, she bindered up and convinced the Federal government to move the job to Pawnee, which is closer to most of the parks in the region and much cheaper to operate from. Wondering how that's going to play out long-term? Or how Leslie's babies will impact her career? You get the answers, but none of the details, because then came the awesome and the WTF: Parks and Recreation pulled a time jump. The final moments of the episode take place three years in the future, and show Leslie still running the (now-thriving) department in Pawnee, and with three adorable little toddlers (two boys and one girl, rendering my gender predictions from last week moot).
Whoa.
Whoa.
Like, seriously: Whoa.
It's killer that there's a whole summer in between now and finding out what else has changed in Pawnee. Is Tom's Bistro still thriving? What's Ben's big news? Does it have to do with his copyright on Cones of Dunshire? And how did Gary/Jerry/Larry get renamed Terry? We'll all just have to take some deep breaths and trudge through a summer of uncertainty when it comes to burning Parks and Rec questions — but for now, let's look back at the best moments of season 6, immortalized in GIFs.
From "London":
Ron sightseeing in London.
Leslie sightseeing in London.
And Chris Pratt's Guardians of the Galaxy weight loss is addressed.
From "Doppelgängers":
All of the doppelganger interactions, but especially April's.
From "Filibuster":
Leslie in '90s gear and roller skates, filibustering her little heart out.
Also, Ben being turned on by it. They are the weirdest and best couple.
From "Fluoride":
All of the arguments:
From "The Cones of Dunshire":
But seriously, I want to play this game.
From "Farmer's Market":
Ron meets an iPod.
From "Anniversaries":
Ben receives his Iron Throne replica and makes That Face.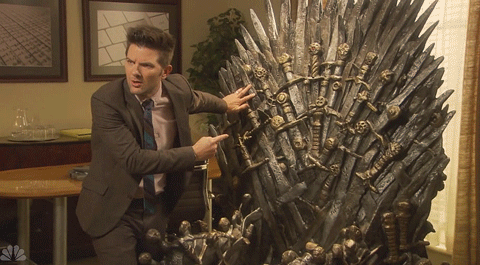 From "New Slogan":
Perd explains what a slogan is, in typical Perd fashion.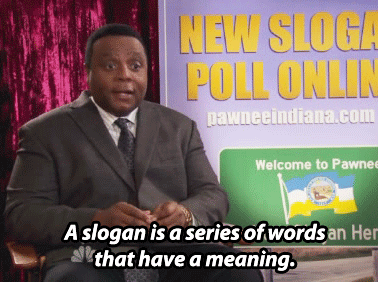 The Parks Department experiences the joy of the panda on the slogan site (sorry, Ben, it's not just a placeholder).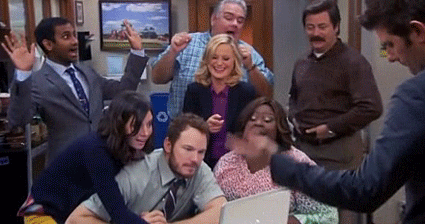 From "Prom":
Meet April's mother.
Remember this moment, and it gets better:
From "Moving Up: Parts 1 & 2":
Leslie meets Michelle Obama.
Yeah, that pretty much makes up for any downs in season 6.
What did you think of the Parks and Rec finale? What was your favorite moment from the season?